Our Volunteers Have Helped 43,500 Hawaii Workers Save Over $8.6 Million
Now They Need Your Help
The Hawaii VITA Program has moved to Hawaii Tax Help and Financial Empowerment Solutions, a Hawaii non-profit (application for tax-exempt federal status still pending).  As a relatively new non-profit, Hawaii Tax Help has limited funds and the funds that are available are grant funds that cannot be used for certain things. One of those things, which I consider extremely important, is FOOD.  Specifically, we are asking you to help us provide the following for our volunteers:
Refreshments for those volunteers who work through their regular dinner and lunch hours during the week or on the weekends or who travel to the neighbor islands to assist at sites.
Most of our volunteers have regular jobs during the week and volunteer after their regular work day until the evening hours to provide free tax help to Hawaii residents eligible for this service. Or they give up their personal time during the weekend to work, often straight through the lunch hour, at sites such as Leeward Community College which prepared 844 federal returns and a similar amount of State returns during the last tax season.
There is also a core group of volunteers who travel almost every weekend during the tax season to prepare returns on the neighbor islands. These selfless individuals are usually required to catch a flight out of Honolulu at 6:30 am on a Saturday morning so that they can set up a tax site by 9:00 am and then spend the next 6 or 7 hours, without a scheduled break, preparing taxes for residents before they return to Honolulu.
If you know someone who volunteers for VITA, you can make your donation in the name of that volunteer if you so choose.  Or you can simply help to sponsor our wonderful volunteers in general.  Your name will appear on our Thank You page unless you indicate that you want to be an anonymous donor.
We had 204 volunteers last year who donated over 20,000 hours of their time over an 11-week period.  A $5.00 donation will allow us to buy a bottle of water and a sandwich or other light refreshments for one volunteer for one tax session.  Our overall fundraising goal is now $5,000.  Please help us to reach that goal.
By sending a check or money order (no cash) to Hawaii Tax Help & Financial Empowerment Solutions at the following address: P.O. Box 235814, Honolulu, HI 96823
By contributing directly through this website – click here
Please note: Hawaii Tax Help & Financial Empowerment Solutions has not yet obtained its 501(C)(3) exemption from the IRS so your contribution is not tax deductible – it will simply be a much appreciated gift from the heart.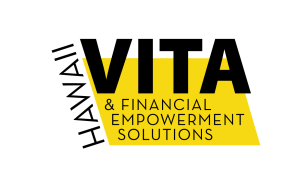 $5 Suggested Donation

But we appreciate any amount that you can give
Don't forget to provide the name of the volunteer you're thanking with your donation if you know one