Our Volunteers Have Helped 38,527 Hawaii Workers Save Over $7.3 Million Now They Need Your Help – And $6 Is All It Takes!
With the move of the Hawaii VITA Program to a brand new non-profit that has limited funds, we have decided to launch the Program's first-ever fundraiser, the net proceeds of which will help us to provide our volunteers with the following items that cannot be paid out of the grants that the Program has applied for:
food for those volunteers who work through their regular dinner and lunch hours or who travel to the neighbor islands to assist at sites:
space required for additional training sessions; and
stipends for certain trainers, particularly those who are assisting with our "Learn Early. Live Smarter." initiative, which has thus far trained 171 high school students as VITA volunteers.
Our overall fundraising goal is $17,886, which works out to $6 a week per volunteer (we had 271 volunteers last year) over an 11-week period. So, by contributing at least $6, you'll be able to help cover the cost of one volunteer for one week. You can contribute in any of the following ways:
by sending a check or money order (no cash) to Hawaii Tax Help & Financial Empowerment Solutions at the following address: P.O. Box 235814, Honolulu, HI 96823
by contributing directly through this website – click here
Our "ask" is just $6.00 but any amount would be appreciated. If you would like to contribute more than $6 to help our volunteers, then please see below for free gifts that are being offered for larger contributions.
Please note: Hawaii Tax Help & Financial Empowerment Solutions has not yet obtained its 501(C)(3) exemption from the IRS so your contribution is not tax deductible.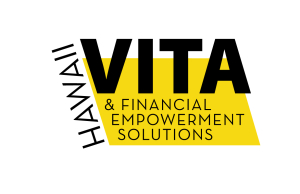 Just $6 Contribution
A simple donation of $6 will help
Or enter any amount you would like to give +/- $6!
And thank you in advance!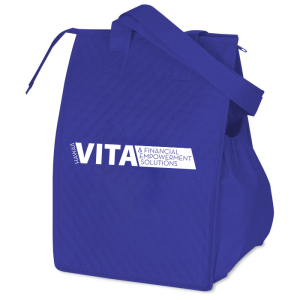 $18 Contribution: Therm-O-Snack Insulated Bag
Zipper closure helps keep your lunch contained and retains the warm or cold temperatures of your food.
An elastic pocket is designed on one of the side gussets for an extra drink.
Plastic bottom insert and dual reinforced 18″ carrying handles offer convenient stability and portability.
Constructed of 80gsm non-woven polypropylene fabric, 80gsm foam insulation and a 78gsm heat-sealed, water-resistant foil lining.
Size: 12″ x 8″ x 7″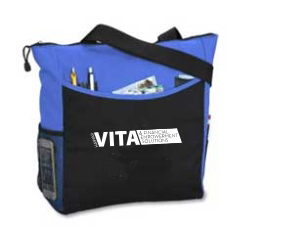 $24 Contribution – Sturdy Tote
The durable 600D polyester bag holds notebooks, files, tablet, even a laptop in the main zippered pocket.
Smaller items prove easier to find in the front slip pocket, pen/business card organizer pockets, mesh water bottle holder and side cell phone pocket.
Shoulder-length (25″) handles provide for hands-free, over-the-shoulder carrying comfort.
Size: 14″ x 17″ x 5″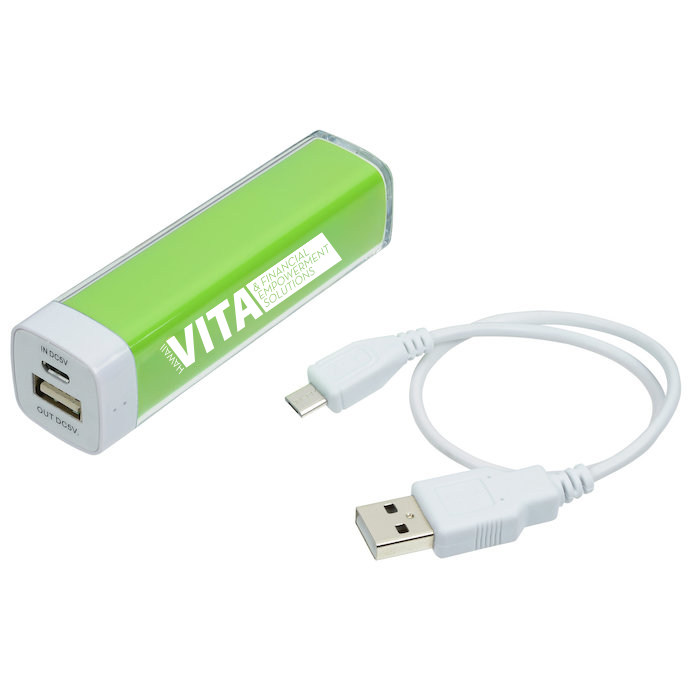 $24 Contribution – Portable Power Bank
This compact UL Listed power bank makes it perfect size to keep with you at all times.
Has a 2200 mAh battery capacity and 5.0 Volt/1.0 Amp output, which is suitable for Apple® or Android cell phones. Includes a micro USB charging cable to charge the bank through your computer.
The rechargeable lithium ion battery is fully charged when the red light is no longer illuminated.
Then, plug your own device charging cord into the bank's USB port and charge away!
The plastic double wall exterior ensures a sturdy build without fear of breakage.
Note: iPhone charging cord not included.
Size: 1″ x 3-1/2″ x 1″