Our Volunteers Have Helped 55,821 Hawaii Residents Save Over $11.7 Million
Help Us To Offer This Valuable Service To More Hawaii Residents

The Hawaii VITA (Volunteer Income Tax Assistance) Program is operated by Hawaii Tax Help and Financial Empowerment Solutions, a 501(C)(3) non-profit organization.  Every year, we offer free tax return preparation services to income-eligible Hawaii residents.  By using our free tax preparation services, the average taxpayer saves approximately $250.  Since 2006, we have helped 55,821 Hawaii residents save over $11.7 Million in tax preparation fees.
This valuable service is made possible through the generosity of individuals who give up their time after work and on weekends to train, obtain IRS-certification as volunteer tax return preparers, and prepare tax returns at various sites across the State of Hawaii.
Approximately 4 years ago, we began recruiting and training high school students to become certified volunteer tax return preparers as part of our "Learn Early. Live Smarter." initiative.  Thus far, 292 high school students from Pearl City, Kalani, Campbell, Waipahu, and Kapolei High Schools have successfully obtained their IRS-certification.
Please donate today to help us to recruit, train, and otherwise support more volunteers and to open additional tax preparation sites so that we can offer this valuable service to more Hawaii residents, especially those on the neighbor islands who live in remote and/or rural areas.
THREE WAYS TO DONATE:
By contributing directly through this website – click here

By sending a check or money order (no cash) to Hawaii Tax Help & Financial Empowerment Solutions at the following address: P.O. Box 235814, Honolulu, HI 96823

By making all of your Amazon purchases through https://smile.amazon.com Just go to this website and log on as usual to your Amazon account.  If you have never used this donation site before, you will be asked to select a charity.  Please search for and select Hawaii Tax Help and Financial Empowerment Solutions. Once you have made your selection, you can proceed to order items as usual.  As long as you order using the https://smile.amazon.com site, AMAZON will make a donation to our non-profit based on your purchases.  This does NOT increase the cost of your purchases.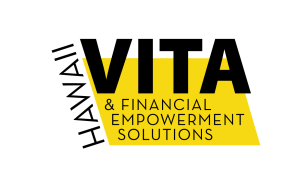 $10 Suggested Donation

But we appreciate any amount that you can give
Don't forget to provide the name of the volunteer you're thanking with your donation if you know one